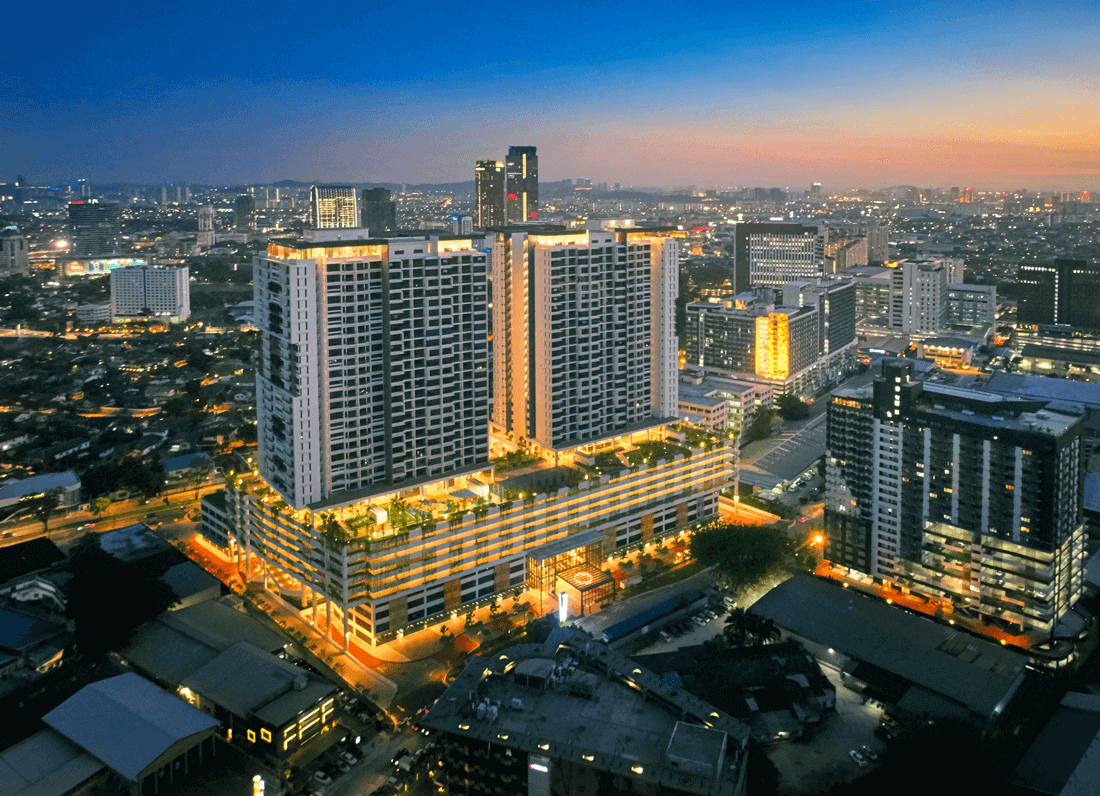 PJ Midtown
PJ Midtown is a leasehold serviced apartment located in Seksyen 13 of Petaling Jaya. This service apartment has built-up areas from 613 sq ft to 1,227 sq ft. IOI Properties Berhad and Sime Darby are the developers for PJ Midtown. Both the developers are successful and play a major role in the property industry in Malaysia. IOI Properties Berhad has an excellent rack record in the property industry for more than 30 years and it strives to give total customer service to their customers. Sime Darby group is a leading multinational corporation and one of Southeast Asia's largest conglomerates and constantly strives to achieve superior quality and bring significant added value to all key stakeholders.
PJ Midtown is mixed development where the serviced apartment consists of 2 blocks and it stands at 29 storey tall and 4 storeys shop offices. It consists a total of 738 service apartment units, with a total of 3 elevators serving the residents. PJ Midtown is relatively affordable as compared to other existing and upcoming condominiums, considering the strategic location that it is located at.
PJ Midtown is strategically located in Petaling Jaya. PJ Midtown is surrounded by various known amenities and facilities, such as Jaya 33 Mall, Jaya One Mall, Digital Mall, SS2 Mall, shop lots, clinics, churches, offices, restaurants, eateries and banks. PJ Midtown is also strategically located as PJ Midtown is easily accessible via Jalan Kemajuan where it is connected to Jalan Semangat, Jalan Universiti, Jalan Utrara, SPRINT Highway and Federal Highway. Buses and taxis are easily available as well. The nearest LRT stations such as Asia Jaya station and Taman Jaya station are a short distance away from PJ Midtown. In addition, schools are easily access from PJ Midtown as there are a number of schools in the vicinity PJ Midtown, such as Sultan Abdul Samad Secondary School, SK Sri Petaling and Bukit Bintang Boys Secondary School. Universities such as Univeersiti Malaya and Universiti Tunku Abdul Rahman are also within the vicinity of PJ Midtown. Moreover, public hospital such as Universiti Malaya Medical Centre is only a short distance away from PJ Midtown.
Owners of PJ Midtown are able to enjoy the facilities at Level 7. Residents from PJ Midtown will be able to enjoy various facilities such as, swimming pool, wading pool, sauna, gymnasium, jogging path, playground, sundeck, gazebo, prayer room, tennis court, meeting room, kindergarten room, barbeque area, multipurpose hall and library. Residents will be able to workout at their own leisure time to lose the extra pounds gained and relax at the same time at their own pace and preferred time without worrying about human congestion. Most important, PJ Midtown has a pre-installed panic button that is linked directly to the guardhouse is also pre-installed in every unit, so residents of PJ Midtown can feel safe and secured at all times.
PJ Midtown consists a total of 29 storeys. With 3 residential elevators in PJ Midtown, residents do not have to worry about waiting long to get back to their comfortable home. Residential units start from the 8th floor onwards. PJ Midtown has a total of 738 service apartments with 3 different layouts for buyers to choose from. These layouts are Type A at 1,227 sq ft, Type B at 915 sq ft, and Type C at 613 sq ft. At PJ Midtown, residents from will be able to enjoy a breathtaking panoramic view of Kuala Lumpur skyline from the terrace. Each unit is partially furnished with air conditioners, water heaters, kitchen cabinets, hood and hob, and sink. In addition, all units are given 1 to 3 parking spaces as well, depending of the unit's size.
As mentioned earlier, both IOI Properties Berhad and Sime Darby Group are reliable and well-known developers in the development industry. The estimated completion date for PJ Midtown is December 2018. The selling price for a unit for PJ Midtown is starting from RM 567,800 to RM 1,516,680, which is equivalent to RM850 per square feet after rebates. The maintenance fee is priced at RM0.33 per square feet. In addition, there is also a 10% discount for Bumi.
There are a few prestigious projects developed by Maxim Holdings Sdn Bhd worth checking out, these include La Thea Residences @ 16 Sierra, The Clio Residences @ IOI Resort City, The Veo, and Quarza @ Melawati (Quartz Ridge). Nonetheless, there are also other projects around Petaling Jaya area where it is worth checking out such as, 1120 Park Avenue, Amcorp Serviced Suites, Ameera Residences @ SS2, Apartmen Bayu, and Apartmen Permai (Damansara Damai).
Interested in This Project?
Please fill in the form below with your message and we'll get back to you soonest.
If you're interested to connect with one of our professional agents, kindly note that down along with your message and we'll revert to you for a free, no-obligation consultation on your real estate needs.